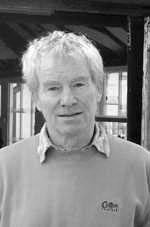 ---
Clive Bowen produces slip decorated earthenware pots of very high quality and masterful design.
In 1965 at the age of twenty-two, after studying painting and etching at Cardiff College of art, he joined Michael Leach as an apprentice at Yelland Pottery and stayed there for five years. In 1970, as well as working as a thrower at Brannam Pottery, he helped Michael Cardew at Wenford Bridge at weekends, and built himself a kiln. He set up his own pottery at Shebbear, North Devon in 1971, and has been working there since. Clive has not marked his work since the early 1970s when he used a circular seal with his monogram.
He fires his work in a down-draught circular wood-fired double-chamber kiln that he built in 1976, similar in design to the one at Wenford Bridge. It has a 400 cubic foot capacity – sufficient for up to a thousand pots. The red earthenware pots, usually slip decorated – sgraffito, trailed, or both, are fired at 1060° centigrade. Firing takes twenty-four hours and the kiln is then sealed for the five day cooling period.
Clive's work is highly thought of; it has been exhibited widely both at home and abroad, he is regarded as Britain's finest slip decorator, he has had a one-man exhibition at the Tate St Ives, and he is one of the Pottery Studio's most requested potters. He is also an accomplished graphic artist and his paintings are often exhibited with his pots.